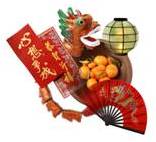 10 a. m. Monday, January 23, 2012 Lan Su Chinese Garden | 239 NW Everett Street
To make sure that business and homes are blessed with gold, on the first morning of Chinese New Year employees and family members roll oranges over the threshold.  Lan Su Chinese Gardens is inviting all of our good friends in and around Old Town Chinatown to join them in rolling the wealth into the Chinese Garden.
Oranges will scatter and gold coins will fly!
The colorful Chinese Lion Dance, presented by Lee's Dragon and Lion Dance Team will help welcome the year, before taking off to appear at many Chinese restaurants and businesses wishing to bring good fortune to their establishments. Traditional firecrackers will explode "to burst open the door for good luck to pop in."
Lan Su Garden presents two full weeks of Chinese New cultural events and activities.
Go to www.lansugarden.org for a full schedule and more information. 
If you have questions about the rolling the wealth event, please contact Bianca McCarthy (bianca at lansugarden dot org).