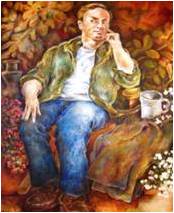 For their first exhibit of the year, ArtsEast has challenged regional artiststo explore and discover their person identities and recreate them through themedium of their choice and we couldn't wait to see what they come upwith!
Participating artists to date include: Peter Alan Bryan,James Dumble, Alexandra Fuller, Jeanine Gekeler, Karen Kevan, Charles Koehler,Gary Moses, Sue Orlaske, Linda Peterson, Mark Thompson and LindaSchreiner.
The opening reception for the exhibit will be January 13 from 5 –8 PM. It will also be available to Art Walkers on the 19from 5 – 7 PM.
The ArtsEast Gallery is located in the Community School of the Arts Building,6 Street and "L" Avenue, on the EOU campus. Office hours areMonday – Friday, 8 AM – 4 PM.
For information, call 541-962-3624 or email dheath@eou.edu.
ArtsEast is the fiscal sponsor for the Union County Cultural Coalition, Cultural Participation (aka Coalition Grants) recipient since 2003. Image: "With Coffee…"