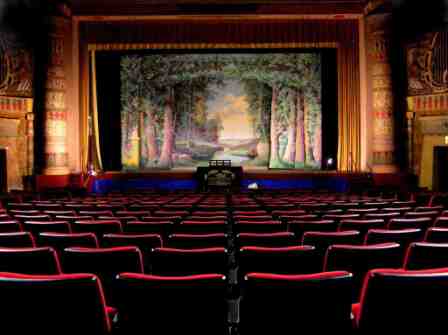 Like much of America in the 1920s, Oregon found itself deep in a love affair with the movies.
Between 1922 and 1925, opulent theaters sprung up around the state – from Pendleton to Coos Bay. Architects employed over-the-top architectural styles that called to mind Medici palaces or Pharoh tombs, and theater goers flocked to see films, Vaudeville shows, and more. These theaters became community gathering places – for families, teens and to see and be seen.
Many of Oregon's historic theaters have suffered in recent years. Those that survived the Great Depression found themselves struggling in later eras, particularly with the advent of television. Several were sold to developers, who knocked them down. Others were saved by historic preservation groups and like-minded municipalities, which purchased and restored them. In some cases, restoration has taken years, as small nonprofits raised funds incrementally.
The Cultural Trust and several of its cultural coalitions have invested in a number of theater restoration projects over the last 10 years.
This year two historic theaters received first-time grants: the Rivoli Theatre in Pendleton received a $5,000 and the Egyptian in Coos Bay was awarded $7,500.
The Rivoli was built in downtown Pendleton circa 1900 but opened as a theater in 1922. After a 50 year run, the Rivoli closed and, in 2012, a developer applied for a demolition permit. The Rivoli Restoration Coalition formed quickly in response, and the theater was placed on the Historic Preservation League of Oregon's 10 Most Endangered Places of 2012. Moved to action, the Pendleton Development Commission negotiated to purchase the ailing theater. The Trust grant will provide asbestos abatement and structural assessment.
The Egyptian, which opened in Coos Bay in 1925, enjoyed a long run but was put up for sale in 2005. The story of its salvation is similar to that of the Rivoli. The Egyptian Theatre Preservation Association was formed and by April, 2006, the City of Coos Bay had purchased the building. It closed in 2012 amid structural concerns, but volunteers are confident it will reopen next year.Egyptian theaters became popular in the early 20th Century after the discovery of King Tut's tomb, but 90 years later, The Egyptian in Coos Bay is one of only two left on the West Coast. (There were once 13.)
Greg Rueger, President of the Egyptian Theatre Preservation Association, was thrilled to learn about the Cultural Trust grant. "This award comes at a wonderful time for our project," he said. Indeed, the group is in the final stages of fundraising to collect the $750,000 needed for structural repairs and ADA restroom upgrades required to reopen. "The grant is particularly important since $350,000 of what we have raised are "top off" grants — awards only given to us after we have gained commitments for the full amount of the construction. In a very real sense, the $7,500 the Oregon Cultural Trust is providing will be leveraged many times over, through helping us lock-in the top-off grants we've received."
In its very first round of grants, the Trust awarded $10,000 to Astoria's Liberty Theatre, a 1925 Italian Renaissance-revival building with its own Wurlitzer organ. The Liberty, which received subsequent Trust grants in 2010 and 2011, has become an important regional performing arts facility – and home to the growing Astoria Music Festival. The 91-year old Whiteside Theatre has become a mainstay of downtown Corvallis since it reopened in 2011. After its closure in 2002, developers had encroached. A nonprofit group was created restore the old venue. The Trust awarded grants to the Whiteside in 2010, 2011 and 2013 and the theater is now open for community events, even as Whiteside Theatre Foundation continues its restoration efforts.The 1940 Art Deco Ross Ragland Theatre, formerly Esquire Theatre, serves 10,000 patrons a year and has invigorated downtown Klamath Falls with its line-up of shows. The Ross Ragland was awarded Trust grants in 2012 and 2013.
Cultural coalitions in Jackson and Deschutes Counties have awarded smaller grants to the Craterian and Tower Theatres in Medford and Bend, respectively. These venues provide robust mixed programming that brings people out, and has rejuvenated both downtown areas.
Trust Communications Manager Meryl Lipman noted, "These theaters were here before cable, the internet, Netflix, when theaters were part of the glue that held a downtown and community together. These buildings are like time capsules. It is important – for our current and future generations – that they be kept alive."