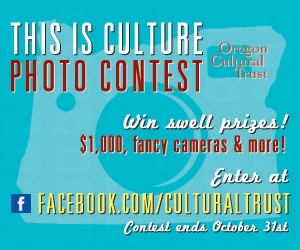 Contact: Kimberly Howard, kimberly.howard@state.or.us
Cultural Trust partners with McMenamins, Pro Photo Supply, and Whole Foods Market to solicit responses and offer valuable prizes
October 11, 2011 – Salem, ORE. The Oregon Cultural Trust supports the work of more than 1,300 arts, heritage, and humanities organizations. This month, the Trust is reaching out directly to individuals across the state to learn what matters most about Oregon culture to the people who live here.
"A photo contest struck us as the best way to invite participation," explains Oregon Cultural Trust manager Kimberly Howard. "Everyone carries a camera these days. Professionals are welcome to enter, of course, but we're just as interested in impromptu snapshots taken on cellphones. We're asking people to show us cultural moments they value, period."
The Trust's prize packages are sure to attract attention. Winners will claim $1,000 cash, Canon cameras, V.I.P. tickets to a 2012 McMenamins Edgefield concert, hotel getaways, and gift cards. And yet two prizes stand out for the pure ambition of their impact: a pair of winners will each earn the right to bestow $1,000 on the cultural nonprofit of their choosing.
"In a contest where we're asking Oregonians to help define our state's culture, it seemed only right that we'd let winners put funding into the hands of the cultural organizations that matter most to them," confides Christine D'Arcy, the Trust's executive director.
"We're extraordinarily thankful to McMenamins, Pro Photo Supply, and Whole Foods Market," adds Dave Weich, whose Portland-based marketing agency, Sheepscot Creative, is managing the project. "They've been incredibly generous. The Trust had a vision, and it simply wouldn't have been possible to achieve without the generosity of our sponsors."
To participate, entrants simply upload as many as five photographs at the Cultural Trust's Facebook page, www.facebook.com/oregonculturaltrust.
The contest runs through the end of October. Judges will select finalists in early November before online voters are invited to choose the winners in categories that include "Food Culture," "Oregon Oddball," and "My Life, My Culture." All eligible entries will be considered for each of the prizes and categories.
What kind of photograph will win? "Surprise us," Howard urges entrants. "What's special about Oregon culture to you probably isn't what's special about it to me. That's our point. We want to know what matters to the people who call this great state home."
– 30 –