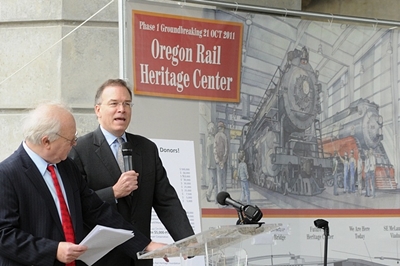 Portland City Commissioner and Cultural Trust Board member Nick Fish was on hand to help break ground at the site of new Oregon Enginehouse and Rail Heritage Center in Southeast Portland.
The October groundbreaking was a rousing success as train bells clanged and 300 supporters whistled to signal the start of construction on a permanent home for the City of Portland's three historic steam locomotives.
Portland Commissioner Nick Fish and former commissioner Mike Lindberg presided over noontime ceremonies at the site of the new Enginehouse and Rail Heritage Center near the future OMSI MAX station and Portland Streetcar line at the new Willamette River bridge crossing. Joining them were ORHF President Doyle McCormack, Tri-Met general manager Neil McFarlane, Rick Gustafson of Portland Streetcar, OMSI president Nancy Steuber, Brock Nelson of Union Pacific Railroad and Amtrak's Bob Eaton.
Commissioner Fish donned a hardhat and mounted a backhoe to scoop a ceremonial first shovelful of dirt from the site. Also on hand were dozens of individuals involved in the complicated and decade-long effort to relocate the three steam locomotives—SP 4449, SP&S 700 and OR&N 197—from their temporary housing at the Roundhouse in Union Pacific's Brooklyn Yard.
To date, individual donors and foundation donors, including the Oregon Cultural Trust have contributed over $4.5 million toward the construction tab, leaving $1 million still to find. The City of Portland has supported the project with a $1 million loan. When fully realized, the Enginehouse and Rail Heritage Center will be a living workroom to celebrate the history of rail and be a focal point for the new rail hub taking shape in its vicinity. 
Photo courtesy of Oregon Rail Heritage Foundation website.  See more photos of the Groundbreaking Event!