What do a retired Forest Service Ranger, a caterer, a Vietnam Veteran, former rail worker, retired Library Science non-fiction specialist, three parishioners and the son of a Southern Pacific Railroad employee have in common? They all make culture happen in Southern Oregon, every day.
This year, thanks to Oregon Cultural Trust donors, four cultural nonprofits and two cultural coalitions (Josephine and Jackson County) representing 28 arts, heritage and humanties projects were awarded Cultural Trust grant money in Southern Oregon.  Culture is happening.
The Cultural Development projects funded this year in Southern Oregon, range from a porch repair on an historic home, to the revitalization of the collections at four library branches, to the preservation of a Medco No. 4 steam locomotive, to the glazing of the windows and repair of a wood-shingled roof at a rectory in an historic downtown.
Culture is resilient, persistent; it is an integral part of our lives. It will happen, whether we pay for it or not. But the volunteers and staff at these organizations know that they could not do what they do – bringing vitality and vibrancy to our communities – without the support of Oregon Cultural Trust donors.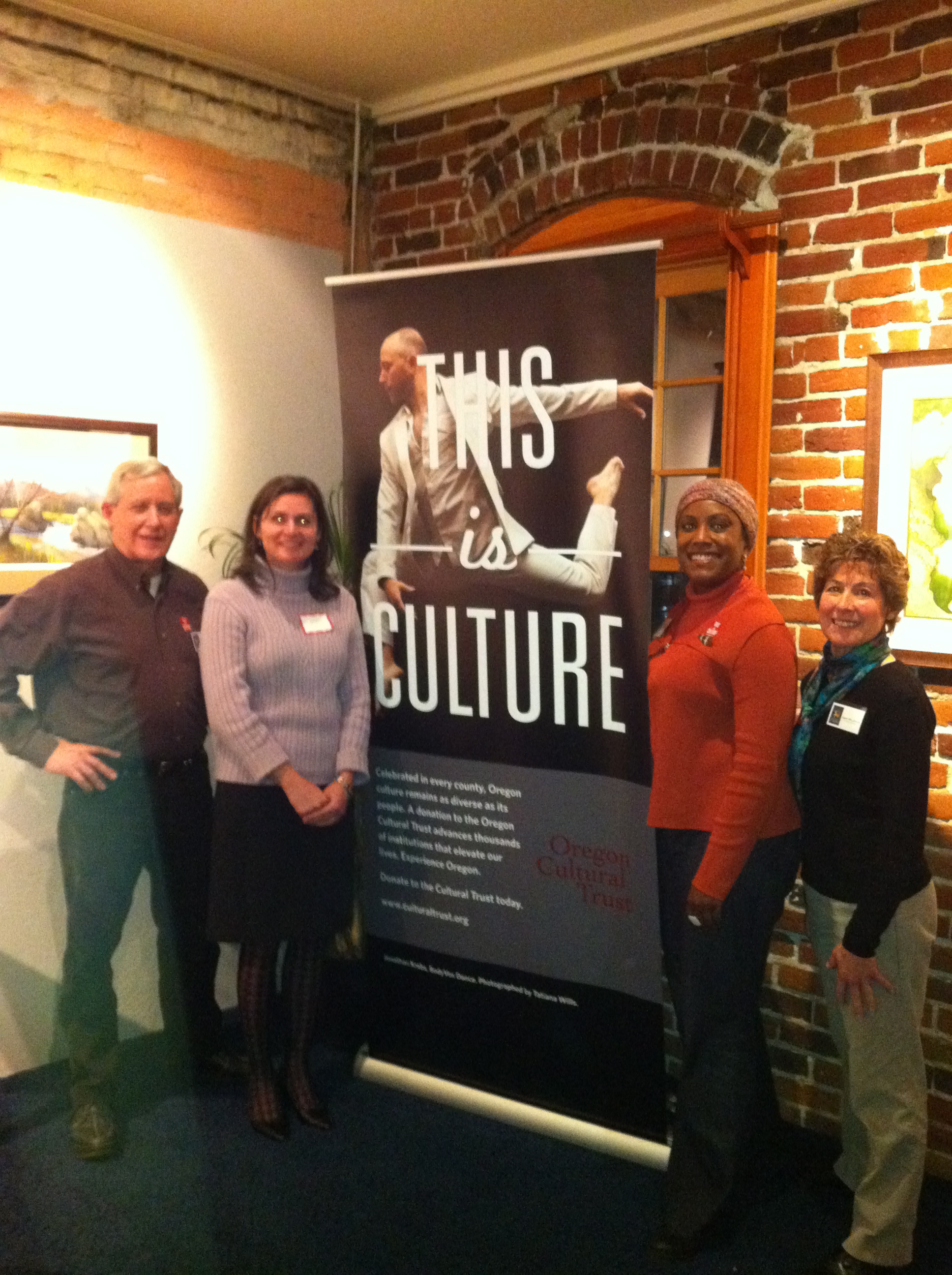 At the Josephine County Cultural Coalition awards celebration on Friday evening (January 20) held at the Grants Pass Museum of Art, the cultural coalition gave away over $8,000 for projects that included artists in the schools, traveling art museum exhibits, chamber concerts for middle school students, Peruvian music for high school students, veteran oral histories, book festivals and musical scores for community Messiah Sing-A-Long. (Click this link to see Daily Courier Video clip about the awards ceremony.)
These awards are one of three ways that Cultural Trust donations make grants, distributing money for culture to every corner of Oregon.
The first way is the Cultural Development grants. Every day this week, Stories from the Field (the Cultural Trust blog) will feature a different Cultural Development grant story from Southern Oregon.
The Cultural Partner grants are the second way Cultural Trust donations make grants, giving money to five statewide organizations that represent the three core elements of culture in Oregon: arts, heritage and humanities.
Oregon Humanities, one of the cultural partners, was at the center of Friday evening's award celebration presenting The Conversation Project.  This conversation was entitled "A City's Center: Rethinking Downtown" and was presented by Nan Laurance.  The Conversation Project is funded in part by an Oregon Cultural Trust Cultural Partner grant awarded to Oregon Humanities every year.
The Cultural Coalition grants, distrubuted through local county and tribal coalitions, like Josephine County Cultural Coalition, are the third way Cultural Trust donations make grants, giving money to every corner of Oregon.

In addition to delighting the commnity with the variety of cultural projects receiving grant funding, Friday evening's Conversation Project engaged community members in a lively debate about the very core of what it means to be a 'city'. "All you need is a 'main street', important buildings (which indicate themselves by their design: are they built up? Is there land around them? Is there an important architectural element that makes it stand out from other buildings?). Places for commerce/activitie. And speical places." Nan Laurance said to set the stage for the conversation. 
Places of commerce/activity tend to be malls, storefronts, and restaurants.  And third places, also known as special places are beloved, like coffee shops, farmers markets, places which bring people together.  In Nan's analysis, this rounds out what it means to be a city.

Grants Pass city residents and Josephine County residents sat side by side and agreed that Grants Pass Main Street was a hopping place of activity and commerce, especially on First Friday Art Walks.  They proudly noted that the parking lot around the original Dutch Bros coffee hut was a special place where big things happen. "They built that place up from a shack." One town-woman said. "We're proud of those boys."
Residents also agreed that there is more to the area than a downtown. And here the conversation got lively. What makes a city center? Does there need to be an agreed upon anchor for it to truly serve the entire community? And does a city need a place where every citizen can voice his or her opinion?
Conversations like this happen across the state, where Oregon Humanities roll out The Conversation Project.  Including the Rethinking Downtown conversation, a few of the topics available this year are: Race and change in Oregon. Life after war. Censorship in literature.
The beauty of the Josephine County Cultural Coalition award celebration on Friday evening is that it brought people who came for the conversation together with people who came for the grant awards.  And everyone left buzzing about Grants Pass and its relationship with the rest of the county, and culture in general, and music in particular, and talking about what a city does to make culture happen. Because in this community they've made the connection: where there is culture – art, heritage, and humanities – there is life.
Learn more about the Josephine County Cultural Coalition at www.jococulturalarts.org.
Photo: (left to right) Michael Bird, Josephine County Cultural Coalition Chair, Kate Lasky, Josephine Community Libraries Executive Director, Kimberly Howard, Oregon Cultural Trust Manager, Mary Walgrave, Josephine County Cultural Coalition Member.