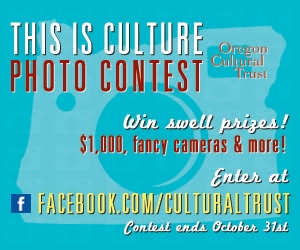 Contact:  Christine D'Arcy, Christine.t.darcy@state.or.us
 Photo contest toaward $1,000 grants to 2 Oregon nonprofits
72finalists named from nearly 1,200 entries
 November9, 2011 – Salem, ORE.  The OregonCultural Trust supports the work of more than 1,300 arts, heritage, and humanitiesnonprofits statewide. Later this month, the Trust will reward two photo contestwinners with the chance to direct $1,000 in funding toward their favorites.
"Ina contest where we asked Oregonians to share photographs that help define ourstate's culture, it seemed only right that we'd let winners put funding intothe hands of the cultural organizations that matter most to them," explainsChristine D'Arcy, the Trust's executive director.
Thecontest generated 1,187 entries during its October submission period.  Last week, judges appointed by the Cultural Trustselected finalists in five categories. Winners of the two general categories,the Photographers Grand Prize and the Culture Star V.I.P., will each earn theright to support the cultural nonprofit of their choice with a $1,000 gift.
Yesterday,voters began the final step toward determining the winners. Voting is open toanyone with a Facebook account, whether they entered the contest or not, andeach voter can support as many entries as they like by visiting the Trust'sFacebook page (www.facebook.com/OregonCulturalTrust).
On November 19th, when voting hasclosed, the photographs that have collected the most votes in each categorywill be declared the winners.
"So far, we're not aware of anyfinalists who've announced which organization will receive the money if theywin," says Trust manager Kimberly Howard. "But we're very curious to see howthat plays out."
Additional contest prizes includedigital cameras, hotel getaways, concert tickets, and valuable gift cards.  
Judges included professionalphotographers Pat Walters, Andy Batt, and Julie Keefe; Todd Tubutis, executivedirector of Blue Sky Gallery in Portland; Michael Granger, co-owner of LightboxPhotographic in Astoria;Janeanne Upp, president of theHigh Desert Museum; Craig Hickman, professor of digital art at the Universityof Oregon; and Thomas Osborne of the HighDesert Journal.
"We'reextraordinarily thankful to McMenamins, Pro Photo Supply, and Whole FoodsMarket," adds Dave Weich, whose Portland-based marketing agency, SheepscotCreative, is managing the project. "They've been incredibly generous. The Trusthad a vision, and it simply wouldn't have been possible to achieve without thegenerosity of our sponsors."
 -30 –