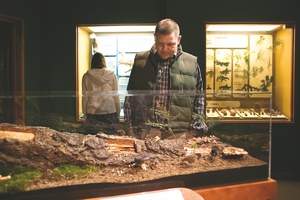 The News-Review
Oregon taxpayers have three days left to make a donation to promote and preserve culture and receive a tax credit.
Taxpayers who match donations they make to qualified nonprofit groups with a contribution to the Oregon Cultural Trust are eligible to take the tax credit on their state income taxes.
Taxpayers may make contributions to more than 1,300 nonprofit groups, including 24 in Douglas County, according to the trust.
The trust was founded in 2002. Since then, the trust has received $25 million and awarded $11 million through 835 grants. The remaining $14 million is in a permanent fund to ensure future grants.
"There are parts of the state that would not receive money for funding if it wasn't for the Oregon Cultural Trust," the trust's manager, Kimberly Howard, said.
Douglas County groups have received roughly $134,000 since 2002.
The recipients include the Douglas County Youth Orchestra, which is part of the Umpqua Symphony Association. Former president Roberta Hall said the $500 the orchestra received this year was used to repair instruments and pay musicians' tuition.
Riverbend Live!, a summer cultural festival in Winston, received $1,000 in 2011. Founder Mo Nichols said the money was used for Riverbend's youth theater. She said funds were used to help purchase scripts, costumes, lights, sound equipment and food.
Nichols said the money is important because productions typically cost $10,000 each summer."It frees up money to be put towards other things," she said.
Gardner Chappell, director of the Douglas County Museum of Natural & Cultural History, said the museum has been supported numerous times by Oregon Cultural Trust grants. "It's an incredible organization for people to contribute to because it comes back to their own community," he said. [Through the Douglas County Cultural Coalition] An organization can receive up to $1,000 from the trust.
The credit may be claimed up to $500 for an individual, $1,000 for a couple filing jointly or $2,500 for a corporation. A person does not have to itemize deductions to take the state tax credit, which can be claimed using the short form. The cultural tax credit is a dollar-for-dollar reduction on taxes. A person who donates $50 to a qualified nonprofit group and matches it with a $50 contribution to the trust receives a $50 tax reduction.
If the donation is made after Dec. 31, the money will apply to next year's 2012 tax returns. The trust offices will be open on New Year's Eve for last-minute donations.Checks must be postmarked by Dec. 31 to earn a tax credit for 2011. Online donors have until 11:59 p.m. Saturday.
Contributions may be mailed to Oregon Cultural Trust, 775 Summer St. N.E., Suite 200-M, Salem, OR 97301. Donations may be made online at www.culturaltrust.org.Information: 503-986-0088.
Story by Ryan Imondi, 541.957.4211
Photo: Eric Betts examines a display at the Douglas County Museum of Natural & Cultural History today. He and his girlfriend, Stephanie Mock, stopped on their way during a road trip north from Chico, California.  The museum is one of the participating cultural nonprofits of the Oregon Cultural Trust.  JULIE K. BYRD-JENKINS / The News-Review