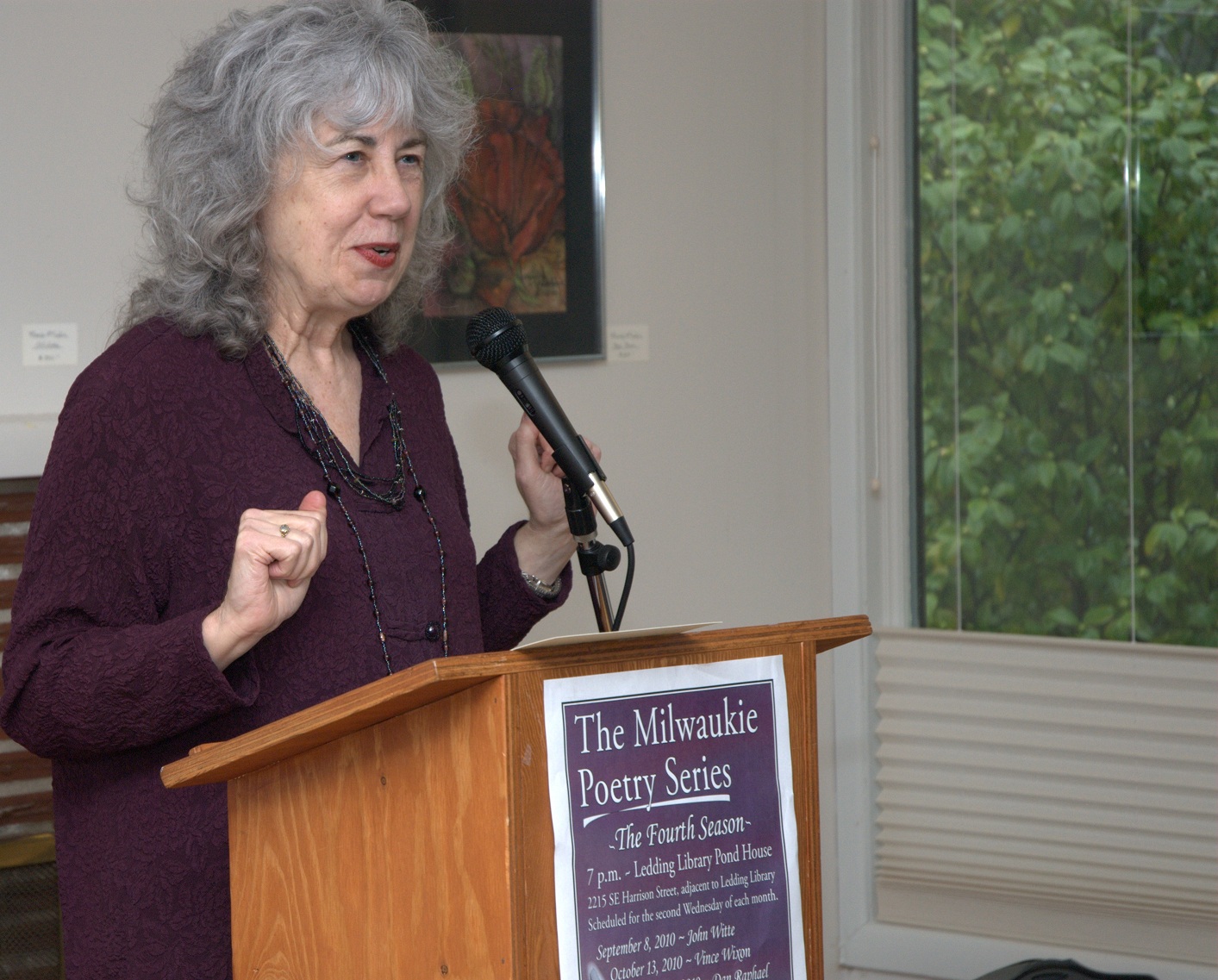 February 5, 2014 –
Seeking "a bold and articulate voice for culture across the state," the Oregon Cultural Trust, Oregon Humanities, and Oregon State Library jointly request nominations for Oregon's next poet laureate.
Paulann Petersen, who has served since 2010, completes her second term in April 2014.
The Oregon Poet Laureate fosters the art of poetry, encourages literacy and learning, addresses central issues relating to humanities and heritage, and reflects on public life in Oregon. The poet laureate will provide at least six and up to twenty public readings per year in settings across the state to educate community, business, and state leaders about the value and importance of poetry and creative expression.
Nominations for this two-year renewable appointment will be accepted from Oregonians until February 28, 2014, and must include the following information:
–a cover letter describing the nominator

–the name and a 300-word biography of the nominated poet

–a statement indicating why the nominator considers the poet's work to be of high quality and representative of the State of Oregon

–confirmation that the nominated poet agrees to be nominated
Self-nominations will not be accepted.
Nominations can be sent to o.hm@oregonhumanities.org (subject line: Poet Laureate Nomination) or by mail to Oregon Humanities, 813 SW Alder, Suite 702, Portland, OR 97205.
More details will be available on this blog and at www.oregonhumanities.org next week.Nominations will be reviewed and ranked by a selection committee, which has been assembled by the Oregon Cultural Trust partners—Oregon Arts Commission, Oregon Historical Society, the Oregon Heritage Commission, Oregon Humanities, and the State Historic Preservation Office.
The committee's recommendations will be forwarded to the Governor who names a laureate beginning as soon as April 2014.
By statute, a portion of the Trust's grant funds is set aside for a project of statewide significance to be collaboratively undertaken by the Trust's partners. In 2006, these funds supported the reinstatement of Oregon's poet laureate and each laureate's outreach as ambassadors of poetry across the state. Lawson Fusao Inada (2006-2010) was appointed Oregon's fifth poet laureate in 2006. Petersen (2010-2014) was appointed the state's sixth poet laureate.
Past Oregon Poet Laureates were Edward Markham (1923 1931), Ben Hur Lampman (1951 1954), Ethel Romig Fuller (1957 1965), and William Stafford (1974 1989).Contact: Adam Davis, Executive Director, Oregon Humanities, (503) 241-0543, ext. 114, a.davis@oregonhumanities.org
Read more at www.oregonhumanities.org.