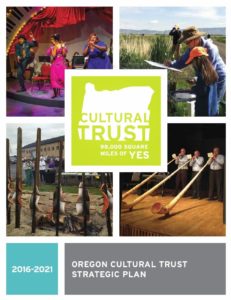 Hot off the design screen and onto the Cultural Trust website — the Cultural Trust's new five-year strategic plan is now available.
The plan outlines the Cultural Trust's key goals and strategies and will be reviewed and refreshed annually.
Limited print copies will be mailed to Trust Partners, Coalitions and qualified cultural nonprofits.
The design is by Salem's InHouse Graphics in collaboration with Grady Britton of Portland.
Thanks to all of the organizations who provided imagery for the plan.