An image featuring a mural created by Eugene's OSLP Arts and Culture program was selected as the winner for the 2018 Days of Culture campaign. The prize? An original poem by Oregon Poet Laureate Kim Stafford — inspired by the image. OSLP Arts and Culture was created to ensure access to the arts for people with disabilities. We think you'll agree the poem could serve as their new anthem. Enjoy!
Days of Culture, Train of Thought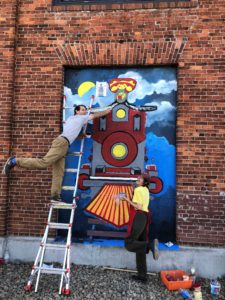 by Kim Stafford
Here's how art works: someone
sitting in a chair, or standing on the ground,
or perching on a ladder marks a vision
to sustain someone passing by in haste—
a train of thought, a dream in paint, a façade
that once was brick but now is dressed
to brighten the maker and the witness
equally, art-supported living vibrant at engine
and caboose, youth and age, beginner
and old master. For some see wall and think
wall. Some see a person struggling for ordinary
rights and only see the struggle. But some see
a wall as space for color, and a person struggling
as art maker, pleasure maker, hands for brightening
any corner, any wall, any space in the humdrum
that could be vibrant and alive. The train is a wall
is art is the work of noble hands.
All aboard!