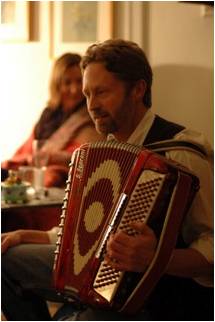 Trust Partners Provide Increased Cultural Coalition Support Activity
No matter where you are living in Oregon, if you're involved with culture, you will see more of the Cultural Trust and its partners in the next several months.
Last winter all five statewide cultural partners, Oregon Heritage, Oregon Humanities, Oregon Historical Society, Oregon Arts Commission and the State Historic Preservation Office, elected to allocate a portion of its Cultural Trust collaborative project funding to contract with a community outreach liaison for the 36 Oregon county and five tribal cultural coalitions.
Bill Flood, a familiar name and face for many Coalition members due to his work in the early years of the Trust, won this contract. Planning began in early March.
A Fullbright Scholar (in 2008) and consultant for the City of Beaverton, Beaverton Arts Commission, City of Sherwood, Portland Community College, and the Confluence Project, to name a few, Flood has done planning for several cultural coalitions, including Clackamas and Yamhill County and has developed relationships with artists, cultural leaders and stakeholders in many communities across Oregon."Bill will examine the information gathered in recent Coalition focus groups to develop the agenda for aa series of regional gatherings with Coalition members. The goal is to provide leadership development, share existing resources and assess each community's needs," according to Brian Wagner, Community Arts Coordinator for the Oregon Arts Commission.
Wagner will be managing the project, working with representatives from all the Cultural Partners and the Cultural Trust manager. Based on the information collected in the regional meetings, Flood will provide recommendations for future training programs, workshops and individual assistance to address community needs and leadership development in the arts, heritage and humanities. This final report will also include recommendations as to what the Trust and its partners should be doing with regard to outreach, capacity building, and leadership development.
Said Wagner, "This will not be a prescriptive plan. This is about really listening to and understanding each community's needs and developing strategies to address them."