Salem, Ore. – The Oregon Cultural Trust's Celebrate Oregon! artwork will be brought to life on a float in the 2023 Portland Rose Festival Grand Floral Parade, Cultural Trust Executive Director Brian Rogers announced today.
Current donors to the Cultural Trust can enter to win a chance to ride on the float with artist Liza Mana Burns, who created the Celebrate Oregon! artwork. Donors will also be entered to win one of three pair of reserved tickets to the Memorial Coliseum viewing of the Grand Floral Parade, scheduled for 10 a.m. on Saturday, June 10. The deadline for entries is midnight on Monday, June 5.
Designed for the Cultural Trust license plate, the Celebrate Oregon! artwork is a vibrant tapestry of Oregon geography into which are woven 127 symbols that reflect and respect the diversity of Oregon's people and cultural traditions. The artwork, a celebration of Oregon arts, heritage and humanities, has also been displayed on full-scale murals at Oregon's four largest airports and in a custom "wrap" of the Oregon Coast Art Bus.
"When the artwork was finalized, we realized its power to unite Oregonians," said Rogers. "Everyone who views the artwork finds a personal connection, making them feel included and part of the Oregon story. That is why we continue to seek out new public platforms for the artwork and partnered with the Portland Rose Festival."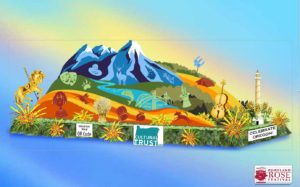 While not all 127 symbols could be included on the float, signage will guide viewers to the artwork's interactive key to see and learn about other symbols. In addition, the float will be accompanied by parade entries that reflect symbols, including Ballet Papalotl – a folklórico dancing group – and the White Lotus Foundation Lion and Dragon Dancers' 100-foot long Chinese dragon.
"The Cultural Trust float will be the cornerstone of a whole section of the parade that will celebrate Oregon," said Marilyn Clint, Rose Festival CEO.
The Cultural Trust is currently in the midst of a spring fundraising campaign in response to a record number of grant applications for FY2024 funding. Donations received in advance of the new fiscal year (July 1) will increase the pool of grant funds available for distribution this summer.
"We received a record 194 applications to our Cultural Development Grant Program this year," said Rogers. "That reveals the incredible need that arts, heritage and humanities nonprofits are experiencing. Our hope is to support as many of these projects as possible this summer."
Taxpayers who make donations to arts, heritage or humanities nonprofits – and a matching donation to the Cultural Trust – qualify for Oregon's Cultural Tax Credit as long as both donations are made in the same tax year. Tax credit limits are $500 for an individual, $1,000 for a couple filing jointly and $2,500 for Class-C corporations.
More than half of the money raised by the Cultural Trust is distributed directly to Oregon's nonprofit cultural community; the remainder grows the Cultural Trust permanent fund. Cultural Trust grants are distributed through five Statewide Cultural Partners – Oregon Arts Commission, Oregon Heritage, Oregon Historical Society, Oregon Humanities and the Oregon State Office of Historic Preservation – as well as to 45 County/Tribal Cultural Coalitions, who regrant the funds in their communities, and directly to cultural nonprofits via Cultural Development Program grant awards.
Enter the Cultural Trust Donor/Rose Festival Drawing.
See a full list of Trust-funded projects in FY2023.
# # #
The Oregon Cultural Trust was established by the Oregon Legislature in 2001 as a unique means to reward Oregonians who invest in culture. Oregonians who donate to a cultural nonprofit and then make a matching gift to the Cultural Trust receive a 100% state tax credit for their gift to the Trust.